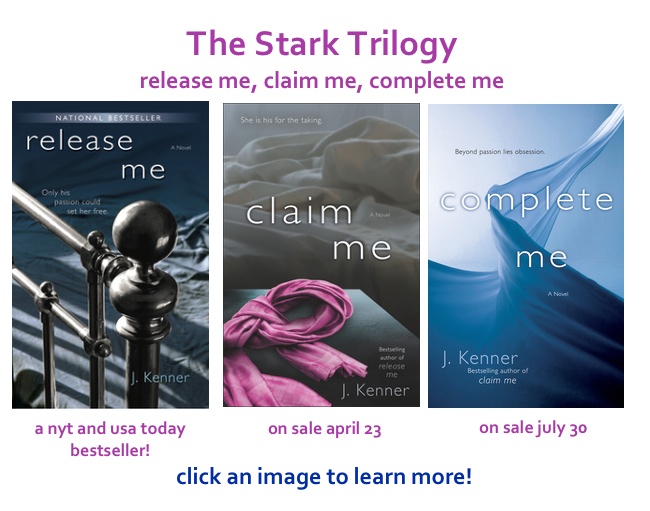 For fans of Sylvia Day & E.L James allow me to introduce you to J.Kenner!
"Finally, I write emotionally charged erotic romance as
J. Kenner
. Book 1 & 2 of the
Stark Trilogy
,
Release Me
, and
Claim Me
, are
New York Times
and
USA Today
bestsellers. Book 3,
Complete Me
, is coming soon!"
I love erotic romance, and this is next to Sylvia Day in terms of my
favourites
and trust me, i have read alot. Stark is a beautiful, dark and determind man. Nikki is independent, stubborn and the perfect match for Damien. Both well written, enticing and full of drama the series just roles on in a perfect flow. I loved this series and really think anyone who loved Gideon Cross a little bit, will fall in love with Damien. Now -lets review book 3 shall we.
Synopsis
This sexy, emotionally charged romance continues the story of Damien Stark, the powerful multimillionaire who's never had to take "no" for an answer, and Nikki Fairchild, the Southern belle who only says "yes" on her own terms.

Our desire runs deep. But our secrets cut close. Beautiful, strong, and commanding, Damien Stark fills a void in me that no other man can touch. His fierce cravings push me beyond the brink of bliss—and unleash a wild passion that utterly consumes us both.

Yet beneath his need for dominance, he carries the wounds of a painful past. Haunted by a legacy of dark secrets and broken trust, he seeks release in our shared ecstasy, the heat between us burning stronger each day.

Our attraction is undeniable, our obsession inevitable. Yet not even Damien can run from his ghosts, or shield us from the dangers yet to come
Review
What can i say - WOW! i wish i never finished this book, seriously. The last part of the series sees so much tension and drama that kept me page turning and well up past bedtime. This is such a well written series, that every single character involved is relevent, and not just a page filler. Nikki & Damien continued to be as frustrating as ever, but brilliant. I can only sing praise for this, being able to review this before release has being a highlight for afternoonbookery. Damien is a strong man, but in this book we see some parts i never thought as a reader we would be allowed to. Brilliant, all round.
Rating; 10/10
a Rafflecopter giveaway