Clare over at
abookandtea
has started a #paperbackparty. Starting from the 19th (yesterday) through to next monday the aim is to relove the paperbacks as sometimes they get neglected i know mine do so here are my pickings.
So, better late than never to the party right? Seen as my birthday has just passed i have a fair few paperbacks at the moment, that i am desperate to read. I also have my tbr jar book so within the week i am aiming to finish 2 of these 4.
Polly Waterford is recovering from a toxic relationship. Unable to afford their townhouse, she has to move miles away from everyone, to the sleepy little seaside resort of Polbearne, where she lives alone above an abandoned shop.

And so Polly takes out her frustrations on her favourite hobby: making bread. But what was previously a weekend diversion suddenly becomes far more important as she pours her emotions into kneading and pounding the dough, and each loaf becomes better and better. With nuts and seeds, olives and chorizo, with local honey (courtesy of local bee keeper, Huckle), and with reserves of determination and creativity Polly never knew she had, she bakes and bakes and bakes . . . And people start to hear about it.

Sometimes, bread really is life . . . And Polly is about to reclaim hers
Tbf, i have nearl
y finished this read, i will have prob finished it before bed time, but its blood
y good!
'I'm looking for that perfect blend of flavours; the taste that used to be you. If I find it, I know you'll come back to me.'
It's been 18 months since my husband was murdered and I've decided to finish writing The Flavours of Love, the cookbook he started before he died. Everyone thinks I'm coping so well without him - they have no idea what I've been hiding or what I do away from prying eyes. But now that my 14-year-old daughter has confessed something so devastating it could destroy our family all over again, and my husband's killer has started to write to me claiming to be innocent, I know it's only a matter of time before the truth about me and what I've done is revealed to the world.

My name is Saffron Mackleroy and this is my story
Meet Bridget Jones—a 30-something Singleton who is certain she would have all the answers if she could:
a. lose 7 pounds
b. stop smoking
c. develop Inner Poise
"123 lbs. (how is it possible to put on 4 pounds in the middle of the night? Could flesh have somehow solidified becoming denser and heavier? Repulsive, horrifying notion), alcohol units 4 (excellent), cigarettes 21 (poor but will give up totally tomorrow), number of correct lottery numbers 2 (better, but nevertheless useless)..."
Bridget Jones' Diary
is the devastatingly self-aware, laugh-out-loud daily chronicle of Bridget's permanent, doomed quest for self-improvement — a year in which she resolves to: reduce the circumference of each thigh by 1.5 inches, visit the gym three times a week not just to buy a sandwich, form a functional relationship with a responsible adult, and learn to program the VCR.
Over the course of the year, Bridget loses a total of 72 pounds but gains a total of 74. She remains, however, optimistic. Through it all, Bridget will have you helpless with laughter, and — like millions of readers the world round — you'll find yourself shouting, "Bridget Jones is me!"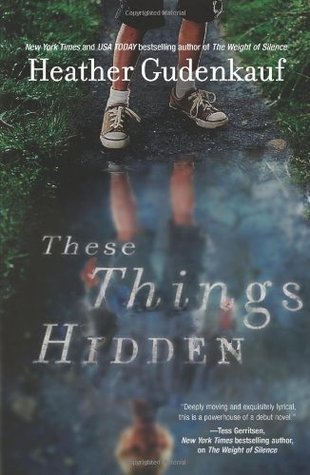 When teenager Allison Glenn is sent to prison for a heinous crime, she leaves behind her reputation as Linden Falls' golden girl forever. Her parents deny the existence of their once-perfect child. Her former friends exult her downfall. Her sister, Brynn, faces whispered rumors every day in the hallways of their small Iowa high school. It's Brynn--shy, quiet Brynn--who carries the burden of what really happened that night. All she wants is to forget Allison and the past that haunts her. But then Allison is released to a halfway house, and is more determined than ever to speak with her estranged sister. Now their legacy of secrets is focused on one little boy. And if the truth is revealed, the consequences will be unimaginable for the adoptive mother who loves him, the girl who tried to protect him and the two sisters who hold the key to all that is hidden