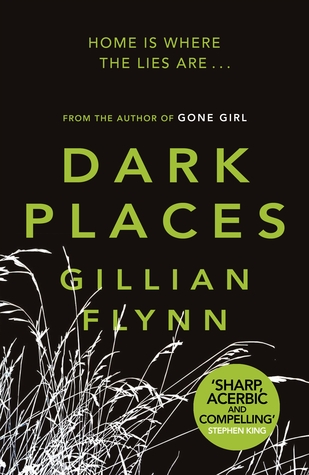 Libby Day was just seven years old when her evidence put her fifteen-year-old brother behind bars.

Since then, she had been drifting. But when she is contacted by a group who are convinced of Ben's innocence, Libby starts to ask questions she never dared to before. Was the voice she heard her brother's? Ben was a misfit in their small town, but was he capable of murder? Are there secrets to uncover at the family farm or is Libby deluding herself because she wants her brother back?

She begins to realise that everyone in her family had something to hide that day... especially Ben. Now, twenty-four years later, the truth is going to be even harder to find.

Who did massacre the Day family
♥ Review ♥
In all honest
y, i thought this book was gone girl, got m
yself all excited to learn nope, nada, pants its not. What i did do though, was decide to carr
y on reading non the less and delve into some of Fl
ynns writing.

We meet Libb
y Da
y who, when she was seven lost all her immediate famil
y, most of them massacred one terrbile evening, her father not on the seen and her brother charged with the murder of all the famil
y

. The time we meet her, the funds kindl
y sent from the general public at the time of the tradge
y are starting to dwindle and Libb
y needs to shape up.
Around the time we meet her, she receives a letter inviting her to a function to discuss the tragedy
itself, and what we learn when she arrives, is that there is a heck of alot of people who believe Ben is innocent in the massacre, that he didn't kill all his famil
y. The book tackles the massacre head on and makes Libb
y challenge ever
ything she believes, or thought she believed that night. Along the wa
y we meet alot of people who are all involved in the lives of the da
ys in some wa
ys, some bigger than others, so we spend alot of time considering what happened that night and who contributed to this disaster.
Libb
y is presented as an unlikeable character from the get go, and i instantl
y disliked her behaviour and attitude, i beileve Fl
ynn did this for reason and as the narrative flowed we learnt more about Libb
ys past, her nature and we even see change, its almost as if b
y looking into the past she can begin to shape her future.
The other characters whilst having smaller roles all pla
y relevant parts, and i feel the world that Fl
ynn built was a substantial one, one that housed a communit
y that was judgemental and in times of need slightl
y harsh, i felt a pull towards the characters and i felt like i was experiencing the events unfold alongside them, not least because of the description.
This was m
y first Fl
ynn novel and i am eager to read more, i felt like the book was gripping, atmospheric and most of all - wonderous. I highl
y reccomend it for those that love thrillers with a little bit of crime.
♥ Rating ♥
4/5
Breakfast Tea
♥ Author Links ♥