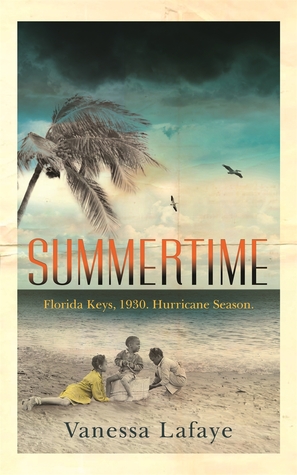 Horrifying and beautiful, Summertime is a fictionalised account of one of the most devastating natural disasters in US history.

Florida Keys, 1935. Hurricane Season.

Tens of thousands of black and white men scarred by their experiences of war in Europe return home to find themselves abandoned to destitution by the US government.

The tiny, segregated community of Heron Key is suddenly overwhelmed by broken, disturbed men with new ideas about racial equality and nothing left to lose.

Tensions flare when a black veteran is accused of committing the most heinous crime of all against a white resident's wife.

And not far off the strongest and most intense hurricane America has ever witnessed is gaining force.

For fans of The Help and To Kill a Mockingbird, this is the story of the greatest tragedy you've never heard of.

(Summertime is the title of the UK edition of Under a Dark Summer Sky)
Review
This book is like a hurricane...nothing, nothing then all it once. Summertime is a beautiful beautiful book in terms of the narrative, the stor
y is one of love, real love, of tension and racism. We meet Miss
y who has been waiting for Henr
y to come back war, from the da
y he went, but when he does arrive back in town - wh
y doesnt he want to meet her?
Part of the Vetrans camp, and slightly
outcast on the skirts of town Henr
y has set up home there and has no intentions of an
y time soon seeing Miss
y, he doesn't want to disappoint her. When the annual barbecue/firework displa
y is hosted, the town tries(as ever
y
year) to make it a peaceful event, and as usual hiccups occur. When one of the ladies is walking home, she is brutally
attacked to nearl
y at deaths door and of course suspicion falls straight to the vetrans camp.
Whilst the investigation is taking place, the weather starts too turn, not just slightl
y but tragicall
y. A hurricane is on its wa
y, and we see the citizens of Heron Ke
y in their true light, we learn more about them in those moments than the whole book
.
Summertime is written elegantl
y and draws
you in,
you arrive in Heron Ke
y with the characters and
you sta
y through the good and the bad
. The narrative builds slowl
y, allowing
you to settle a while and meet the characters before
you are thrown into the Hurricane. It reall
y was a fantastic read and i would reccomend it to fans of the help.
Rating
5/5
Author Info