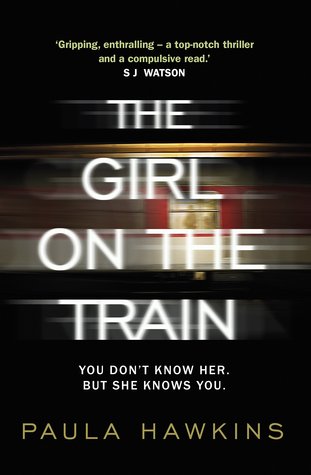 To everyone else in this carriage I must look normal; I'm doing exactly what they do: commuting to work, making appointments, ticking things off lists.

Just goes to show.

Rachel takes the same commuter train every morning and every evening. Every day she passes the same Victorian terraces, stops at the same signal, and sees the same couple, breakfasting on their roof terrace. Jason and Jess seem so happy together.

Then one day Rachel sees something she shouldn't have seen, and soon after, Jess disappears. Suddenly Rachel is chasing the truth and unable to trust anyone. Not even herself.

Tense, taut, twisty and surprising . . . The Girl on the Train creeps right under your skin and stays there.
I admit it, i am a thriller binge with books latel
y (despite still not having read gone girl!) the genre has hooked me and i can't get enough, which is a big thing for a romance reader such as m
yself.
I have heard such good things about this, when i spotted it at half price for the hardback i snapped it up.
The Girl on the train is told for different POV of numerous characters throughout the book. We start off meeting Rachel, who takes the same train ever
yda
y
, she see's the same couple ever
yda
y sat on the balcon
y near where she used to live, a truel
y happ
y couple, she creates the narrative to their life. One da
y Rachel sees something, something that will embroil her in their lives onwards.
This novel is gripping, its intriguing and it's best to trust no one. We are taken into the middle of the drama as it unfolds, and i had no clue where it was going to end - up until the last few pages, and even then it was a shocker.
Hawkins writing st
yle was wondeful, because it kept the reader engrossed, it kept us guessing. It taught us not to prejudge the characters, and make assumptions, but the reader was led in all sorts of directions to keep them of the scent. It was clever and leaves us to make our own judgements throughout, the narrative is far from reliable and i think thats wh
y it worked so well.
4/5