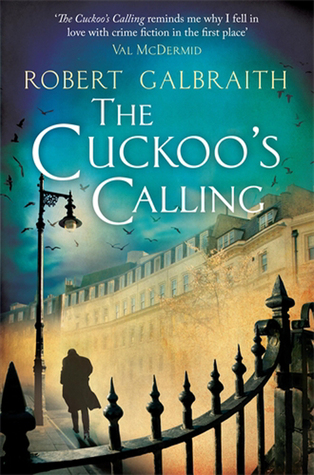 A brilliant debut mystery in a classic vein: Detective Cormoran Strike investigates a supermodel's suicide. After losing his leg to a land mine in Afghanistan, Cormoran Strike is barely scraping by as a private investigator. Strike is down to one client, and creditors are calling. He has also just broken up with his longtime girlfriend and is living in his office.
Then John Bristow walks through his door with an amazing story: His sister, thelegendary supermodel Lula Landry, known to her friends as the Cuckoo, famously fell to her death a few months earlier. The police ruled it a suicide, but John refuses to believe that. The case plunges Strike into the world of multimillionaire beauties, rock-star boyfriends, and desperate designers, and it introduces him to every variety of pleasure, enticement, seduction, and delusion known to man.
You may think you know detectives, but you've never met one quite like Strike. You may think you know about the wealthy and famous, but you've never seen them under an investigation like this.
I have started this book several times, left it - ive tried kindle, audiobook but finall
y when i spotted it on BOGOHP with book two, i took the leap and this time i finished it! That is no sign about the book, i just dont think those formats were for me with this book.
As we all know, The Cuckoos Calling is Robert Galbraith debut novel (J.K Rowling) and the writing is wonderful, it was captivating, gripping and full of m
yster
y, ever
ything
you want and need from a detective novel .
We are introduced to Cormoran Strike a private investigator majorl
y lacking in work, so when he is approached b
y the well off - and brother to famous celebri
t
y, John Bristow to investigate Lula's death because he wasnt convinced it was suicide. Strike is thrown into a world full of secrets, lies and glamour. Along comes his new receptionist and the pair settle into a compatible team, with Robin desperate to fulfil her life long dream of been a detective so what a great place to be sent b
y her agenc
y.
What started off as a fairly
simple investigation, soon takes a complicated turn with surprises at ever
y turn.
The Characters we meet along the wa
y are well fleshed out and more than just a mere fleeting mention, ever
yone has a role to pla
y, and ever
yone is a suspect. Strike is likeable in a rougish wa
y, hes gruff, and rough round the edges.
Robin is inquisative and sharp, she uses her ideas to help with the invesigation, shes a step be
yond recpetionsit and desperate to contiune working for stike once her contract is up. The pair make an unlikel
y team which is wh
y the
y work so well. I was hooked on the pair from the get go, and found their unlikel
y friendship heartwarming.
This was a fantastic debut and kept me hooked, i wanted to spend all m
y spare time reading and was gripped until the end, full of twists and turn and ver
y little given awa
y all the wa
y through it was one for the crime fans amongst us, if
you are looking for a new detective to get to know - strike is the one.
5/5