Happy Monday everyone - and its snowing as i write this, what even? So, i thought i would bring you a haul as i have picked up a few books over the weekend that have really taken my fancy - if you have any thoughts on them, feel free to comment :)
A trick of the mind
Have you committed a crime ...or are you the victim of one?

Driving down to the cottage in Southwold she's newly inherited from her Aunty May, Ellie senses she is on the edge of something new. The life she's always dreamed of living as a successful artist seems as though it is about to begin. So excited is she that she barely notices when the car bumps against something on the road.

That evening Ellie hears a news flash on the radio. A man was seriously injured in a hit and run on the very road she was driving down that evening. Then Ellie remembers the thump she heard. Could she have been responsible for putting a man in hospital? Unable to hold the doubts at bay, she decides to visit the victim to lay her mind to rest, little knowing that the consequences of this decision will change her life forever.
Summer on Blossom Street

Knitting and life. They're both about beginnings--and endings. That's why it makes sense for Lydia Goetz, owner of A Good Yarn on Seattle's Blossom Street, to offer a class called Knit to Quit. It's for people who want to quit something--or someone!--and start a new phase of their lives.First to join is Phoebe Rylander. She recently ended her engagement to a man who doesn't know the meaning of "faithful, " and she's trying to get over him. Then there's Alix Turner. She and her husband, Jordan, want a baby, which means she "has" to quit smoking. And Bryan Hutchinson joins the class because he needs a way to deal with the stress of running his family's business--not to mention the lawsuit brought against him by an unscrupulous lawyer.

Life can be as complicated as a knitting pattern. Just ask Anne Marie Roche. She and her adopted daughter, Ellen, finally have the happiness they wished for. And then a stranger comes to her bookstore asking questions.

Or ask Lydia herself. Not only is she coping with her increasingly frail mother, but she and Brad have unexpectedly become foster parents to an angry, defiant twelve-year-old.

But as Lydia already knows, when life gets difficult and your stitches are snarled, your friends can "always" help!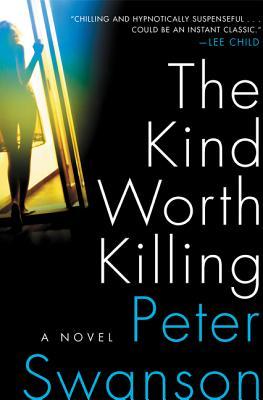 The Kind Worth Killing
A dark and devious literary suspense novel about a random encounter, sex, and a conversation that quickly turns to murder--a modern reimagining of Patricia Highsmith's classic Strangers on a Train--from the author of the acclaimed The Girl with a Clock for a Heart

On a late flight from London to Boston, Ted Severson meets the stunning and mysterious Lily Kintner. Over one too many martinis, the two strangers play a game, one in which they begin revealing more and more intimate details about themselves. Ted talks about his wife, Miranda--how his marriage has gone stale, how a week ago he caught her in a serious betrayal. . . . Maybe they were a mismatch from the start, he the rich businessman, she the beautiful artist. But what begins as playful banter between Ted and Lily takes a swift turn when Ted claims, half-seriously, that he would like to kill his wife for what she's done. Then Lily surprises him by saying that she'd like to help. After all, everyone dies, what difference does it make if a few bad apples get pushed along a little sooner than life intended?

Back in Boston, Ted and Lily forge an unusual bond and talk about the ways Ted might get out of his marriage. But Lily has her own dark history she's not sharing with Ted, a legacy of murder that stems from childhood. And Ted is keeping something from Lily as well--so as they move their plan forward, his motivation becomes less about getting Miranda out of his life and more about getting Lily into it. But as Ted begins to fall in love with Lily, he grows anxious about any unseen holes in their scheme that could give them away. And suddenly the two are pulled into a very lethal game of cat and mouse, one in which there may be more than one loser and more than one of them left dead when it's all over.