Today im sharing my top 5 romance reads that i want to read, so ones i have added to my tbr over the course of time, those that have been reccomended and i just havent got round too - as much as i am loving thrillers at the moment, theres something about a good old rudey romance!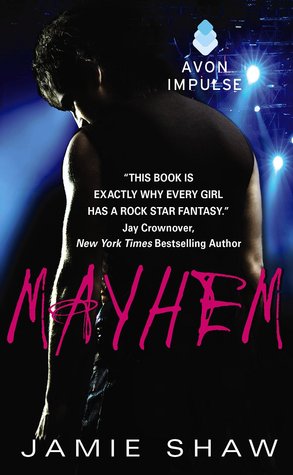 Mayhem
When college freshman Rowan Michaels meets gorgeous, up-and-coming rock star Adam Everest, she knows a player like him is the last thing she needs after her ex-boyfriend shattered her heart. But she can't stop thinking about the kiss they shared on his tour bus.

On the first day of school, Rowan is stunned when Adam saunters into her French class. He's soon failing miserably, and, on a whim, she offers to tutor him. But Adam doesn't recognize her as a makeup-free, glasses-clad college student—a far cry from the beautiful, mysterious "Peach" he met at his concert.

During a wild weekend on tour with the band, Rowan can't help falling for the sweet guy buried beneath Adam's rocker persona. Yet she knows she could never compete with the girls constantly throwing themselves at his feet. She'd just end up hurt … again.

Peach is all Adam thinks about, though, and when Rowan realizes this, she has a decision to make: stay just friends to protect her fragile heart … or reveal the truth about the night they met and admit she's fallen completely, hopelessly in love with him.
Silver Bastard

First in the new Silver Valley series from the New York Times bestselling author of the Reapers Motorcycle Club Novels

Fourteen months. For fourteen months, Puck Redhouse sat in a cell and kept his mouth shut, protecting the Silver Bastards MC from their enemies. Then he was free and it was time for his reward—full membership in the club, along with a party to celebrate. That's when he saw Becca Jones for the first time and set everything in motion. Before the night ended he'd violated his parole and stolen her away from everything she knew.

Five years. It was five years ago that Puck destroyed Becca and saved her all in one night. She's been terrified of him ever since, but she's even more terrified of the monsters he still protects her from... But Becca refuses to let fear control her. She's living her life and moving forward, until she gets a phone call from the past she can't ignore. She has to go back, and there's only one man she can trust to go with her—the ex-con biker who rescued her once before.

Puck will help her again, but this time it'll be on his terms. No more lies, no more tears, and no more holding back what he really wants...
His To Claim
Rafe is a rock musician by night and head of a multi-million dollar family business during the day. Melanie is his former assistant, a wallflower who's harbored a secret crush on him for years. Someone he'd never even consider sleeping with. But when Melanie decides to leave behind her shy exterior and live out her own sexy bucket list, the two of them are thrown together in a whirlwind affair that pushes both their boundaries.

His to Claim: Part 1 is the first installment in the scintillating erotic serial novel His to Claim, later to be made available as a complete book featuring special bonus material. Don't miss the other chapters of Opal Carew's six-part serial out Summer 2014. She's his to claim--he just doesn't know it.
Beautiful Bastard
An ambitious intern. A perfectionist executive. And a whole lot of name calling.

Whip-smart, hardworking, and on her way to an MBA, Chloe Mills has only one problem: her boss, Bennett Ryan. He's exacting, blunt, inconsiderate—and completely irresistible. A Beautiful Bastard.

Bennett has returned to Chicago from France to take a vital role in his family's massive media business. He never expected that the assistant who'd been helping him from abroad was the gorgeous, innocently provocative—completely infuriating—creature he now has to see every day. Despite the rumors, he's never been one for a workplace hookup. But Chloe's so tempting he's willing to bend the rules—or outright smash them—if it means he can have her. All over the office.

As their appetites for one another increase to a breaking point, Bennett and Chloe must decide exactly what they're willing to lose in order to win each other.

Originally only available online as The Office by tby789—and garnering over 2 million reads on fanfiction sites—Beautiful Bastard has been extensively updated for re-release.

Grace. That word that finally meant something again. Mercy. Favor. Good will."

Fed up with play kink, Grace Warner moves to an island that embraces erotic slavery to be with a man she met online. Within hours of her arrival, everything is ripped from her, and she quickly learns play is preferable to the realities of actual enslavement.Asher Collins has spent the past year mourning and blaming himself for the death of his slave, Darcy. When Grace catches his eye at a showing, obviously abused, he becomes obsessed with buying her and finding a way to atone for his own past sins.

DISCLAIMER: This is a work of fiction, and the author does not endorse or condone any behavior done to another human being without their consent. This work contains subject matter which is not appropriate for minors including depictions of abuse, slavery, dubious consent, and anal play.