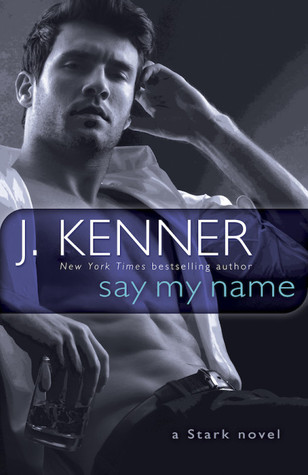 New York Times bestselling author J. Kenner kicks off a smoking hot, emotionally compelling new trilogy that returns to the world of her beloved Stark novels: Release Me, Claim Me, and Complete Me. Say My Name features Jackson Steele, a strong-willed man who goes after what he wants, and Sylvia Brooks, a disciplined woman who's hard to get—and exactly who Jackson needs.

I never let anyone get too close—but he's the only man who's ever made me feel alive.

Meeting Jackson Steele was a shock to my senses. Confident and commanding, he could take charge of any room . . . or any woman. And Jackson wanted me. The mere sight of him took my breath away, and his touch made me break all my rules.

Our bond was immediate, our passion untamed. I wanted to surrender completely to his kiss, but I couldn't risk his knowing the truth about my past. Yet Jackson carried secrets too, and in our desire we found our escape, pushing our boundaries as far as they could go.

Learning to trust is never easy. In my mind, I knew I should run. But in my heart, I never felt a fire this strong—and it could either save me or scorch me forever.

Say My Name is intended for mature audiences.
As soon as i spied this on netgalley, i crossed all fingers and toes and clicked request, quickly followed by a message to two of my friends to warn them about the upcoming release - because this would be a good un, and was i right? OF COURSE.
J Kenner has done it again, i was worried that no one would compare to Damien Stark, i mean he was everything, that is until Jackson Steele came along and stole my heart away. Sylvia met Jackson five years ago, and they spent two days together, two perfect days, days that the pair would never forget.
In those five years alot has changed, Sylvia has lost her job, and now works for Damien Stark. Jackson has grown and his career has esculated into something of fame worthy status.
When the architect that Sylvia has booked falls through, her only viable option? Ask Jackson, otherwise the project is off. A woman on a mission is never one to cross, so when Jackson says no, Syliva is not taking that as his final answer.
His compromise? He gets her, but Sylvia can't go through that again. When it seems the only option , she agrees, to Jackson though - its all about one thing, revenge. He wants toy be her whole world, then nothing.
Kenner has a way of creating men that become your whole world, that you swoon for, that no one can compare too, that you forget your latest fling in favour of them. It's not just the men though, there is always substance behind them, there is a story, a narrative you want to follow and not just skip to the sex scenes.
This was a fantastic read, made only better by the fact there is still more to come, this is book 1/3 it ends with enough to want us to come back, but not so much that we are frustated.
5/5