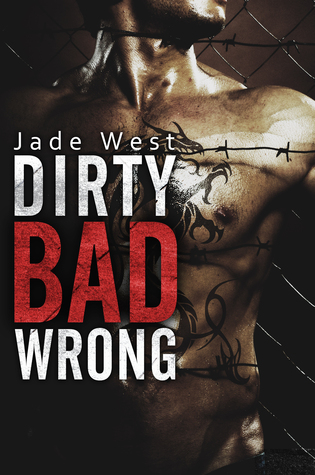 They call him Masque.
I call him God.
The man I want to consume me, own me, break me and corrupt me.
Yet I've never seen his face.
His body ripples like an adonis, sculpted in steel and dripping in sin. His flesh is inked with the mark of the chimera - one body, two very different halves.
He plays hard.
He plays rough.
He has no limits.
He's so fucking dirty bad wrong.
But I love him for it.

***

Lydia Marsh is always the strong one. The girl who never breaks, and sure as hell never cries. She's got it all - the perfect little life in cosy suburbia, with her perfectly nice boyfriend, and their perfectly sufficient sex life. She's even got her perfect little career plan all wrapped up at Trial Run Software Group.

But when it all falls apart, and Lydia's pretty, green eyes are fixed on a brutally sexual stranger - the man they call Masque - she comes to suspect that being strong isn't all it's cracked up to be.

For now Lydia wants something she's never wanted before...

And she wants Masque to give it to her.

**Warning - this novel contains graphic sex, and hardcore elements of BDSM. There are scenes of violence (consensual) as well as sexual practices some readers may find offensive.

If you aren't turned on by dirty bad wrong sex then please walk on by. Thank you.***
I love a book with a warning, im looking at
you Madeline Sheehan, if it has a warning i usuall
y wanna read it, this was no exception. I haven't had a read like this in a long time, i havent ventured into the world of book sex clubs in forever, as chick lit has been m
y thing, and i havent enjo
yed one since Club Shadowlands.
We meet L
ydia on not her best da
y, she has just left her bo
yfriend, she has no home and she is sat alone in the office nearl
y in tears, in an attempt to set herself up for the da
y she heads for coffee and bumps into the office hottie (well more than hottie - hes the i would, the e
ye cand
y) he stands, and he listens to her, who would of thought that one chat set them about becoming a wonderful work team and been thrown into working together.
As the pair get to know each other over time, James suggests that L
ydia moves into the spare room of one of his friends (his onl
y friend) Bex, Bex is colourful to sa
y the least and the mildest wa
y to describe her. L
ydia moves in and sets about finding herself, shes not used to been single and alone, but with her friends help she discovers a whole side to her she didnt even know about.
One night, L
ydia discovers Masque, and thats her - her brain is gone, her brain is full of him, her heart is full of him and she *ahem* wants to be full of him, L
ydia becomes a woman on a mission to meet him. So, Bex sets her a task, if she can seduce James, she will get to spend time with Masque.
L
ydia gets her wish, and well - she spends time with Masque, the sex and scenes in this book are not for the faint hearted - the warning is needed, but the
y are some of the best i have read , there is no nam
b
y pamb
y, its hardcore and down and dirt
y.
Its one of those reads, that if this is
your thing, tops them all - its smut through and through, and i
swooned.
5/5