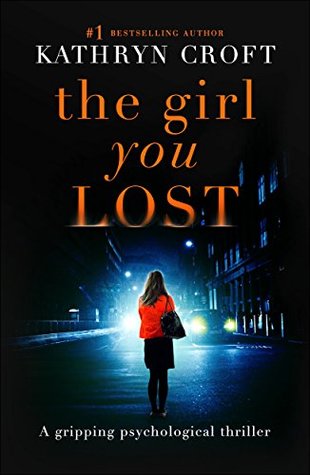 Eighteen years ago your baby daughter was snatched. Today, she came back.

A sinister and darkly compelling psychological thriller from the No.1 bestselling author of The Girl With No Past.

Eighteen years ago, Simone Porter's six-month-old daughter, Helena, was abducted. Simone and husband, Matt, have slowly rebuilt their shattered lives, but the pain at losing their child has never left them.

Then a young woman, Grace, appears out of the blue and tells Simone she has information about her stolen baby. But just who is Grace – and can Simone trust her?

When Grace herself disappears, Simone becomes embroiled in a desperate search for her daughter and the woman who has vital clues about her whereabouts.

Simone is inching closer to the truth but it'll take her into dangerous and disturbing territory.

Simone lost her baby. Will she lose her life trying to find her?
I love Kathryn Croft, she is fast becoming one of my favourite thriller authors. When I spied this was on netgalley I had to grab it. Last year I read and adored The Girl With No Past, and so this was a given I would enjoy it.
18 years ago, Simone lost her daughter, her mother in law took her out one night and she was abducted, all these years later - there is no answers and a mother who couldn't find love for another child again, and a couple living through life not complete. It's all about to change though, when a girl called Grace enters Simones life, and Grace has information on Simones and Matts daughter.
Simone, like any mother - has feelings about Grace, feelings that Matt doesn't understand. When Grace suddenly disappears its a long battle to find out what the actual earth is going on & the clock is ticking.
The Girl you lost is gripping, its full of surprises, twists and dark turns. At first I found it a bit hard to believe, and harder to follow but as a I got further into the book I just realised it was a desperate mother seeking answers, just trying to find her daughter still after all these years. I loved how passionate and fierce Simone was in her search for answers, I felt Matt supported her in all her craziness and the combination of the two worked wonderfully
I devoured this book so quickly, and I was desperate for answers, I felt it did lose a little bit of momentum but it soon picked it back up and I retracted every bad thing I had thought about the book.
If you are after a dark thriller to fill that gap in your reading life, then I whole heartedly recommend picking this book up.
4/5
Kathryn is always seeking new challenges and has had a wide and varied career before writing her first novel. After gaining a BA Honours Degree in Media Arts with English Literature, she worked in human resources and management training. But it wasn't long before her passion for literature led her to train as a teacher and study for a Post Graduate Certificate in Education. She then spent six years teaching secondary school English; a job she believes was invaluable to her writing career.
Kathryn now devotes all her time to writing and is currently working on her fifth novel.
Having always been an avid reader, Kathryn believes in the power of words to entertain, teach and transform lives. Now that she has achieved the dream she has held onto since childhood – to write a full-length novel – her new goal is to be as successful as the bestselling authors she admires. She firmly believes anything is possible if you work hard enough and never give up!
Kathryn lives in Guildford, Surrey with her husband, their baby son and two cats.