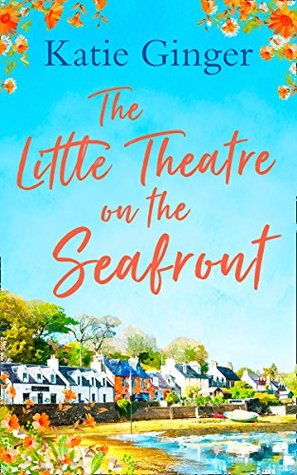 When Lottie's Gran dies she leaves one last request; save Greenley Theatre.

Faced with a decaying building, a mayor who most definitely isn't on board with the project and a group of actors who just can't get along, Lottie has her hands full, but with best friend Sid by her side she knows she can do it somehow.

But the arrival of Jeremy, a hotshot London developer who sweeps Lottie off her feet, complicates things. Suddenly Sid gets a new girlfriend, the Greenley Players fall apart, and that crumbling building? Well it crumbles a whole lot more. With no one to turn to, Lottie has to find the courage to save the day.


Will Lottie be able to save the theatre and also follow her heart?
This was was supplied from netgalley in exchange for an honest review
Having spent alot of time in and around theatres i do love a theatre read, oh and one on a seafront is just even more up my street, all it needs is a small nearby cafe and we are sorted!
Anyway, i digress - When Lottie's Gran passes away, she leaves her a letter with one last request. Save Greenley Theatre , become chair woman and basically fix it. Lottie has been pretty happy with her life so far, her little job and plodding along. Lotties Gran however had different ideas she wants to push her out of her comfort zone.
Fixing Greenley Theatre is a mammoth task, especially when most people think it would be easier to knock it down and build houses but Lottie can't let her gran down with Sid (her lifelong best friend) by her side what could go wrong?
Turns out, quite alot throw in a suave businessman who is actually interested in Lottie, Sid finds a girlfriend and the Greenley Players are constantly at each others throats - it throws everything she has worked so hard for up in the air.
This read was brilliant, it had enough drama to keep me interested, a love interest or two and plenty of theatre talk. It was light enough that i could read it quickly and invest my time but not heavy enough that it weighed on my mind.
I really liked Lottie, i felt she was shy and needed the push out of her comfort zone so i totally backed her Gran on this one. I was rooting for her along with the town of Greenley, even when things were not so certain. Sid made me laugh, he was sweet geeky and has a good heart but at times i wanted to shake him senseless.
If you are after something that is sweet, funny and packed full of quirky characters then this is the one for you!