Weekend Reads
Happy Saturday all, i haven't posted much this week so i thought i would sit down and share what i plan on reading over the weekend, hopefully i will get a bit of reading in at bedtimes and maybe as i chill after a very long ass run. So on with it;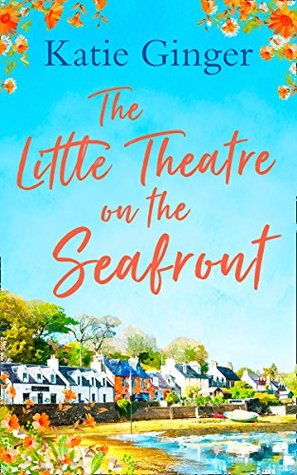 When Lottie's Gran dies she leaves one last request; save Greenley Theatre.
Faced with a decaying building, a mayor who most definitely isn't on board with the project and a group of actors who just can't get along, Lottie has her hands full, but with best friend Sid by her side she knows she can do it somehow.
But the arrival of Jeremy, a hotshot London developer who sweeps Lottie off her feet, complicates things. Suddenly Sid gets a new girlfriend, the Greenley Players fall apart, and that crumbling building? Well it crumbles a whole lot more. With no one to turn to, Lottie has to find the courage to save the day.
Will Lottie be able to save the theatre and also follow her heart?
I've currently just started this on Kindle, i was after something light, sweet and not too taxing (not in a hash horrible way) i have devled into some many thrillers recently that i just wanted a sweet seaside read. Im only about 15% of the way through but i am enjoying it so far.
Gentleman Sinner
An all-the-feels novel of fierce love overcoming a dark past from the author of the #1 New York Times bestselling THIS MAN series.


Izzy White knows of the darkness in this world. After all, she escaped it long ago. Determined not to let her past beat her, Izzy has a secure, stable life with a job she loves in nursing. But one act of kindness will completely upend everything she's so carefully built-putting her right back in the crosshairs of danger she's been so desperate to avoid.

When Theo Kane shows up like a knight in shining armor, Izzy can't help thinking she's been saved from one threat and exposed to another. His imposing physique, the harsh lines of his face, and the wariness of everyone who comes close are just a few clues to Theo Kane's notorious reputation. The man is positively terrifying. But with Izzy, he's tender and a complete gentleman, and her fascination with the mysterious beast of a man becomes too powerful for her to walk away.

As Theo's demons come to light, running becomes even more impossible. And yet staying together could doom them both.
I started this a week ago, but i havent had real chance to sit down with it, so im thinking weekend bathtime this will be a good read to delve into, having adored all of Jodis previous work i know im going to love this.
If by any chance i finish both of those i may move onto;
The Perfectly Imperfect Woman
Marnie Salt has made so many mistakes in her life that she fears she will never get on the right track. But when she 'meets' an old lady on a baking chatroom and begins confiding in her, little does she know how her life will change.

Arranging to see each other for lunch, Marnie finds discovers that Lilian is every bit as mad and delightful as she'd hoped – and that she owns a whole village in the Yorkshire Dales, which has been passed down through generations. And when Marnie needs a refuge after a crisis, she ups sticks and heads for Wychwell – a temporary measure, so she thinks.

But soon Marnie finds that Wychwell has claimed her as its own and she is duty bound not to leave. Even if what she has to do makes her as unpopular as a force 12 gale in a confetti factory! But everyone has imperfections, as Marnie comes to realise, and that is not such a bad thing – after all, your flaws are perfect for the heart that is meant to love you.

The Perfectly Imperfect Woman is the heart-warming and hilarious new novel from the queen of feel-good fiction – a novel of family, secrets, love and redemption … and broken hearts mended and made all the stronger for it.
This again looks like a light read that would tick all the boxes.