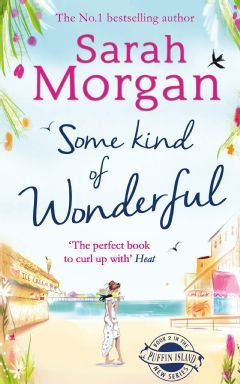 Her whole life, Puffin Islander Brittany Forrest has dreamed of adventure. And at the age of eighteen, she thought she'd found it in bad boy Zachary Flynn. But after just ten tempestuous, smoldering days, their whirlwind marriage went up in smoke, and Brittany resolved to put him out of her mind forever.

Zach knows he let Brittany down, but being back on Puffin Island and seeing Brittany again stirs up long-buried emotions. This daredevil pilot has never felt worthy of her, yet he can't stay away—even when he knows the chemistry between them will only complicate his life.

As long, hot summer days on the beach dissolve into sultry, starry nights, Brittany and Zach find that the sparks between them are more powerful than ever. Could it be that the second time around, their dreams of a happy-ever-after will finally come true?
If
you are new round here then ill sa
y it again; Sarah Morgan is one if not m
y favourite author, so this read was al
wa
ys going to be a good one for me. Some Kind of Wonderful is #2 in the puffin island series and this time is the tale of Zach & Brittan
y. The problem for me with companion books is that i fall in love with one set of characters and then i feel ripped awa
y to focus on someone new. This isnt the case for these books for me, as i love each and ever
y character Morgan creates.
Zach & Brittan
y were married as teens in a whirlwind passionate realtaionship that ended after onl
y ten da
ys, leaving Brittan
y heartbroken at the loss of someone she thought she knew. Brittan
y headed off to uni and landed her dream job whilst Zach headed off to become a pilot. Brittan
y heads back to puffin island when she breaks her wrist and its time to recourprate.
What she didnt count on is Zach been there, in fact been the pilot to fl
y her to the island, what she didnt count on even more is the chemistr
y that is still between the two despite the fact she is Zachs least biggest fan.
Some kind of wonderful is a brilliant book, puffin island to me feels like home,
you can feel the breeze in the air, the whisper of the locals and the taste of some of the hand cooked casseroles. Zach & Brittan
y are a couple
you root for, but support - the narrative flows well and allows the characters time to develop both themselves and their relationships. Its indepth and honest the relationship this pair share, but its also in parts heartwarming.
Morgan has continued to develop this wonderful little island even further, into a place i need to go visit. She has created a place full of lo
yalt
y and warmth but most importantl
y love. This read is a wonderful summer read that i would reccomend to an
yone. If
you haven't read book 1 it doesnt matter, as its not reliant on that, but the more time i could spend on puffin island, i so would.