Jan has been the longest month, im sure i am not the only to say this and it sounds so cliche but it really has been. At the start of the month, i had no real plans for new books and i was planning on tackling my netgalley TBR but well, as i have prepared this post; turns out - i picked up a fair few books this month. So - on with the haul. Some are paperbacks i picked up, purchased on kindle and some are review books off Netgalley
Take Me In - Sabine Durrant
He saved your son's life.
Does that mean you have to give him yours?
It starts with a holiday.
A three-year-old boy on a beach,
and the hero who saves his life.
But nothing is ever that simple.
Tessa and Marcus know they owe Dave Jepsom more than they can ever repay.
Yet even as he is walking from the sea with their son in his arms,
there is something about him that makes them uneasy.
He is not like other people that they know.
Being with him makes them confront truths about themselves they would rather not see.
The shock of that moment will change everything.
And it's not how things start that matter.
But how they end . . .
My mum actually picked this one up for us, we often share reads between us and this one really caught her in, i have heard of the author so i knew it would be a pretty good read and whilst she has it at the moment its one i will be tackling sooner rather than later.
Let Me Lie - Clare Mackintosh
The police say it was suicide.
Anna says it was murder.
They're both wrong.
One year ago, Caroline Johnson chose to end her life brutally: a shocking suicide planned to match that of her husband just months before. Their daughter, Anna, has struggled to come to terms with their loss ever since.
Now with a young baby of her own, Anna misses her mother more than ever and starts to question her parents' deaths. But by digging up their past, she'll put her future in danger. Sometimes it's safer to let things lie…
Clare Mackintosh has written some of my fav books and when i spotted this that i hadnt read - well i am hoping i havent read. I snapped it up and i am hoping its as good as the others.
The Perfect Girlfriend - Karen Hamilton
Juliette loves Nate. She will follow him anywhere. She's even become a flight attendant for his airline, so she can keep a closer eye on him.
They are meant to be.
The fact that Nate broke up with her six months ago means nothing. Because Juliette has a plan to win him back. She is the perfect girlfriend. And she'll make sure no one stops her from getting exactly what she wants.
True love hurts, but Juliette knows it's worth all the pain.
This was the one in the bunch of these first four (i purchased together) that i really wanted, it just sounded so brilliantly creepy - i mean she changed her job to keep an eye on him?! I cannot wait to get to this!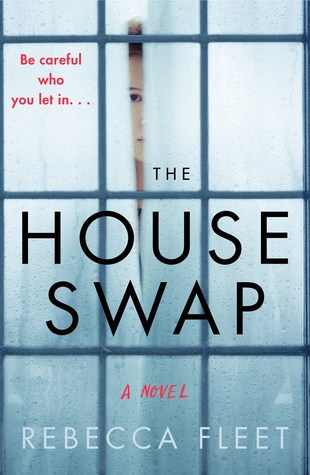 The House Swap - Rebecca Fleet
Be careful who you let in . . .
When Caroline and Francis receive an offer to house swap--from their city flat to a townhouse in a leafy, upscale London suburb--they jump at the chance for a week away from home, their son, and the tensions that have pushed their marriage to the brink.
As the couple settles in, the old problems that permeate their marriage--his unhealthy behaviors, her indiscretions--start bubbling to the surface. But while they attempt to mend their relationship, their neighbor, an intense young woman, is showing a little too much interest in their activities.
Meanwhile, Caroline slowly begins to uncover some signs of life in the stark house--signs of
her
life. The flowers in the bathroom or the music might seem innocent to anyone else--but to her they are clues. It seems the person they have swapped with is someone who knows her, someone who knows the secrets she's desperate to forget...
I have read a houseswap book before,and it was an interesting read so when we spotted this one i thought it would a good one to pick up on the thriller front.
New Starts and Cherry Tarts at the Cosy Kettle - Liz Eeles
After yet another failed romance, twenty-six-year-old
Callie Fulbright
is giving up on love. She's determined to throw all her efforts into her very own, brand-new café:
The Cosy Kettle.
Serving hot tea, cherry tarts and a welcoming smile to the friendly locals proves to be the perfect distraction, and Callie feels a flush of pride at the fledging business she's built.
But her new-found confidence is soon put to the test when her gorgeous ex reappears in the quaint little village. She'll never forget the heartache
Noah
caused her years ago, but when they bump into each other on the cobbled streets of Honeyford she can't help but feel a flutter in her chest…
As Callie and Noah share laughter and memories, she starts to wonder if this could be her second chance at happiness. But when Callie discovers that someone is mysteriously trying to ruin the café's reputation… she has an awful suspicion that Noah knows who's involved.
Was she wrong to ever trust him again? And can she find out who's behind the lies and rumours, before it's too late for the Cosy Kettle?
Its been a while since i read a sugar sweet cafe read and i am so excited to have found one that really ticks all the boxes, and after all the thrillers i have been reading its nice to have something at the other end of the scale.
Sleep - C.L Taylor
All Anna wants is to be able to sleep. But crushing insomnia, terrifying night terrors and memories of that terrible night are making it impossible. If only she didn't feel so guilty…

To escape her past, Anna takes a job at a hotel on the remote Scottish island of Rum, but when seven guests join her, what started as a retreat from the world turns into a deadly nightmare.

Each of the guests have a secret but one of them is lying – about who they are and why they're on the island. There's a murderer staying in the Bay View hotel. And they've set their sights on Anna.

Seven strangers. Seven secrets. One deadly lie.

Someone's going to sleep and never wake up…
I adore C.L Taylor and all her books, they have just been fan-bloody-tastic and omg the hype for this on twitter is unreal and i am so excited that i even got chance to review it! It still amazes me when my favourite authors allow this chance for a reader like me.
Mr One-Night Stand - Rachel Stewart
One night only.
Just think of the possibilities…
The second she sees Mr. Oh-So-Delicious, Jennifer Hayes knows she needs one night of crazy. No names, no strings, no rules. Except that Jennifer's naughty one-nighter is actually Marcus Wright—her new business partner! Now they're mixing business with all kinds of pleasure. But when it comes to falling in love, her sexy Mr. Wright is either Mr. Wrong or the best mistake of her life…
Its been a long while since i read any sizzling reads and its time for one, so when the opportunity to review this badboy came up, i thought it was a great chance to get back into book tours and discovering new reads.
An Anonymous Girl - Greer Hendricks & Sarah Pekkanen
The next novel of psychological suspense and obsession from the authors of the blockbuster bestseller The Wife Between Us.

Seeking women ages 18–32 to participate in a study on ethics and morality. Generous compensation. Anonymity guaranteed.

When Jessica Farris signs up for a psychology study conducted by the mysterious Dr. Shields, she thinks all she'll have to do is answer a few questions, collect her money, and leave.

Question #1: Could you tell a lie without feeling guilt?

But as the questions grow more and more intense and invasive and the sessions become outings where Jess is told what to wear and how to act, she begins to feel as though Dr. Shields may know what she's thinking… and what she's hiding.

Question #2: Have you ever deeply hurt someone you care about?

As Jess's paranoia grows, it becomes clear that she can no longer trust what in her life is real, and what is one of Dr. Shields' manipulative experiments. Caught in a web of deceit and jealousy, Jess quickly learns that some obsessions can be deadly.

Question #3: Should a punishment always fit the crime?

From the authors of the blockbuster bestseller The Wife Between Us comes an electrifying new novel about doubt, passion, and just how much you can trust someone.
My mum suggested The Wife Between Us last year and it was so good! i was totally hooked and when this came up on facebook for 99p we both snapped it up and how good does it sound!
So - turns out i picked up alot of books this month to add to my TBR - so far this year i have managed 6 books though so its positive step. Do any of these sound interesting to you? Or even, have you read any?!
Let Me Know!