I have had a very quiet week on the blog so i thought i would kick off the weekend with a quick book haul. I was gifted a ten pound voucher from work so obviously i was straight to waterstones to spend it. Alongside that i have had 1 new netgalley reads this week. So - here is what ive got.












Do you remember when you believed in magic?
The Emporium opens with the first frost of winter. It is the same every year. Across the city, when children wake to see ferns of white stretched across their windows, or walk to school to hear ice crackling underfoot, the whispers begin: the Emporium is open!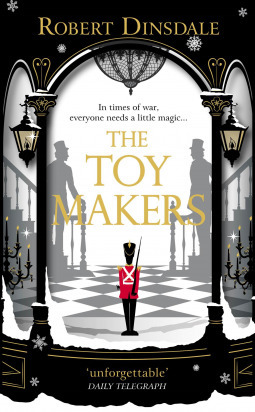 It is 1917, and London has spent years in the shadow of the First World War. In the heart of Mayfair, though, there is a place of hope. A place where children's dreams can come true, where the impossible becomes possible – that place is Papa Jack's Toy Emporium.
For years Papa Jack has created and sold his famous magical toys: hobby horses, patchwork dogs and bears that seem alive, toy boxes bigger on the inside than out, 'instant trees' that sprout from boxes, tin soldiers that can fight battles on their own. Now his sons, Kaspar and Emil, are just old enough to join the family trade. Into this family comes a young Cathy Wray – homeless and vulnerable. The Emporium takes her in, makes her one of its own. But Cathy is about to discover that while all toy shops are places of wonder, only one is truly magical...

I started listening to this on audiobook at christmas time and i am yet to finish it but what i do know it is truely enchanting and magical. I am loving it and i knew i had to own it, so what better time than to get it with a voucher because its a book i know i will keep.
A luxuriously magical retelling of
Beauty and the Beast
set in seventeenth-century France--and told from the point of view of the Beast himself.
I am neither monster nor man—yet I am both.

I am the Beast.
He is a broken, wild thing, his heart's nature exposed by his beastly form. Long ago cursed with a wretched existence, the Beast prowls the dusty hallways of his ruined château with only magical, unseen servants to keep him company—until a weary traveler disturbs his isolation.
Bewitched by the man's dreams of his beautiful daughter, the Beast devises a plan to lure her to the château. There, Isabeau courageously exchanges her father's life for her own and agrees to remain with the Beast for a year. But even as their time together weaves its own spell, the Beast finds winning Isabeau's love is only the first impossible step in breaking free from the curse . .
This is not one i have heard of, but as beauty and the beast is my favourite it was a good bet. It was on the offer so i thought i would give it a try. It seems enchanting and a real book that i could get lost in, this isnt really a genre i read but something about this really took my fancy.
A vivid and gripping historical crime novel set in 19th century Edinburgh, from husband-and-wife writing team Chris Brookmyre and Marisa Haetzman

Edinburgh, 1847. City of Medicine, Money, Murder.

Young women are being discovered dead across the Old Town, all having suffered similarly gruesome ends. In the New Town, medical student Will Raven is about to start his apprenticeship with the brilliant and renowned Dr Simpson.

Simpson's patients range from the richest to the poorest of this divided city. His house is like no other, full of visiting luminaries and daring experiments in the new medical frontier of anaesthesia. It is here that Raven meets housemaid Sarah Fisher, who recognises trouble when she sees it and takes an immediate dislike to him. She has all of his intelligence but none of his privileges, in particular his medical education.

With each having their own motive to look deeper into these deaths, Raven and Sarah find themselves propelled headlong into the darkest shadows of Edinburgh's underworld, where they will have to overcome their differences if they are to make it out alive.
Okay, so this one was sold to me by the waterstones bookseller, he suggested it based on my purchases and told me it would be worth it. Looking at it now i must say its one i am really excited about it, so here is hoping he was right.
A totally gorgeous, feel-good summer story from the bestselling author of The Summer House. You'll smile, sob, and be swept off your feet with this unforgettable beach romance…
Hallie Flynn's favorite place in the world is her great Aunt Clara's beautiful beachside house, with its inviting wraparound porch and enchanting views across the sparkling turquoise ocean. For Hallie, going to Firefly Beach, filled with magical childhood memories, feels like coming home. But all that is about to change…
In one moment Hallie's world is turned upside down. She's left broken-hearted when her adored Aunt Clara passes away.

As always, Aunt Clara has thought of everything. In her last letter she included the bucket list Hallie wrote when she was twelve-years-old—and Clara's final wish is for her to complete it. For once, Hallie decides not to hesitate. Stepping away from her dead-end job and predictable schedule, she embraces Aunt Clara's words.
Spending the summer at Firefly Beach, Hallie encounters old friends and begins to remember the things that matter most to her. All the time her childhood friend Ben Murray is there, supporting her every step of the way. But following the bucket list isn't an easy journey. And if that wasn't all, a run in with wealthy Gavin Wilson, a newcomer to Firefly Beach, leaves her questioning her future, and facing something buried deep in her heart which she'd rather not admit to.
Will Hallie be able to complete the list and change her life? Or will the secret she's been keeping destroy her new beginning—and the chance to fall in love?
I was so excited about this cover reveal on twitter, its just a bit of me all over and so when i saw it on netgalley i was straight there to request it. Its the sort of read that never fails to dissapoint me and i am looking forward to it.