So, i have seen a few youtube videos going round reading highest rated reads on TBR so i thought i would join on the bandwagon, these are the four highest rated reads on my netgalley TBR (if you follow me on twitter you will have seen i am trying to improve it ) I wanted you to pick what i read next so this post will be a little bit about each read.
1. Summer at Conwenna Cove
In a gorgeous Cornish village, two brokenhearted people fall head over heels. But can the magic of Conwenna Cove heal the hurts of the past?
But a terrible twist of fate means she loses it all, and with nowhere left to turn she flees to her Aunt Mary's home in Cornwall. The last thing on her mind is romance – until she meets Jack.
Jack has seen the worst things people can do to each other and realised he is better off alone. He settles in Conwenna Cove, and saves his affections for the rescue dogs he cares for. But when Eve arrives in the village he can't deny his attraction to her.
Eve and Jack are both scared to trust, but when they come together it's impossible for either to ignore their feelings. Can they put their fears aside and learn to love again?
2. Winter at West Sands Guest House
Can Eva find love this Christmas?
Eva Harris has her hands full juggling a young son, a disobedient dog and running her thriving seaside guesthouse, so really the last thing she needs is to be distracted by her new neighbour, ridiculously handsome but arrogant Ben Matthews.

For one thing, she's got nothing in common with the man, Ben's a high flying lecturer at the town's university while she barely scraped through high school, for another he's fresh out of a relationship while Eva hasn't been on one single date since the death of her husband, seven years ago!

She's determined to keep her distance, but in a small town like St Andrews that's easier said than done, and it doesn't help that everyone, including her son Jamie, think Ben is wonderful! Breaking out of her sad but safe little bubble might be the hardest thing she's ever had to do, but Ben might just be worth the risk…
Braxton

Nineteen. There's something about that number; it not only brought us together, bonding us forever, it also played a hand in tearing us apart.

The nineteenth of January 1996. I'll never forget it. It was the day we met. I was seven and she was six. It was the day she moved in next door, and the day I developed my first crush on a girl.

Exactly nineteen years later, all my dreams came true when she became my wife. She was the love of my life. My soul mate. My everything. The reason I looked forward to waking up every morning.

Then tragedy struck. Nineteen days after we married, she was in an accident that would change our lives forever. When she woke from her coma, she had no memory of me, of us, of the love we shared.

I was crushed. She was my air, and without her I couldn't breathe.

The sparkle that once glistened her eyes when she looked at me was gone. To her, now, I was a stranger. I had not only lost my wife, I had lost my best friend.

But I refused to let this tragedy be the end of us. That's when I started to write her letters, stories of our life. Of when we met. About the happier times, and everything we had experienced together.

What we had was far too beautiful to be forgotten.
4. Curves, Kisses And Chocolate Ice-Cream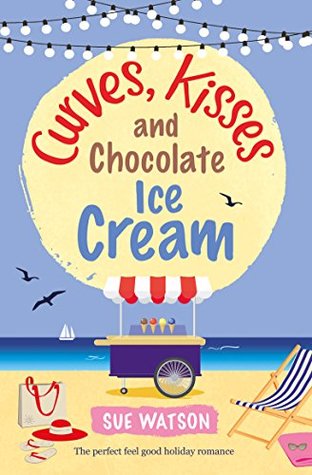 Dani's on a mission to get her life back on track by the end of the Summer. Running, rowing, aerobics and more, but perhaps all she needs are sweet treats and a second chance?

Twenty years ago, Dani fled Appledore with a broken-heart and a suitcase full of shattered dreams. Only now is she brave enough to put her past behind her and return for a summer selling homemade ice-cream and getting fit by doing sit-ups by the sea.

But the new-look cafe is filled with old memories of Jude, her teenage sweetheart-turned-sour. She thinks of him every time she swirls warm sauce onto a "chocolate-bockaglory" and even with the help of Chris, her gorgeous personal trainer, the urge to break her diet is everywhere she turns.

When Jude makes an appearance at the cafe on the eve of Dani's birthday party, history threatens to repeat itself. Is Dani strong enough to say no? And is the love she's been longing for much closer than she thinks?
So - what should i read next - there is a poll live on my twitter over at @afternoonbooker